Travel: Discover the 10 Best Getaways for 2022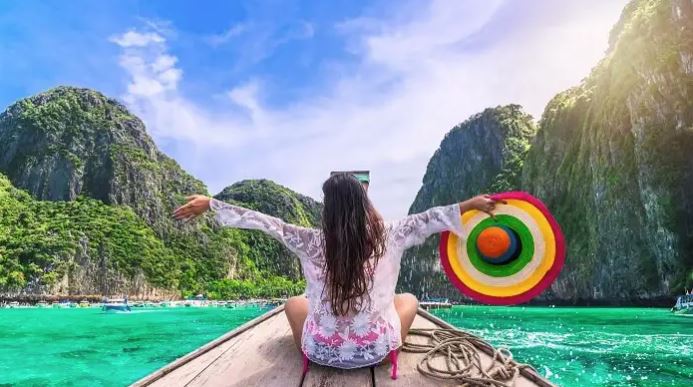 Set sail on a journey of discovery and allow us at travelpirates.com to help you experience smooth travel and a vacation of a lifetime. We are a high-end travel company that takes care of high-profile clients in the entertainment industry. We deal with vacations, hotels, flights, and cruises.
Come for the private experience and stay for the comfort. We have over 45 years of experience in this business, which enables us to provide a very bespoke service where we can recommend private accommodation and travel, plus our celebrity care package can also include additional personal security and concierge services. Whether you are travelling alone or with family, we do our utmost to put your safety first and can provide a bespoke service that can change as you wish during your getaway.
For 2022, we present the top 10 recommended getaways from around the world. Introducing hot sports, beaches, hotel suggestions, and events that will be featured throughout the year ahead.
Goa, India
Location: The Goa state is on the western side of India and is a picturesque place with long stretches of coastline that meet the Arabian Sea. The capital of Goa is Panaji and is home to a population of 1.8 million Indian nationals.
Destinations: Panaji, Agonda, Palolem Beach, and Calangute
Hotels: Hotel Goan Heritage, The Funky Monkey, Hotel Casa Colvale, and Casa Britona
Events: Iced-a-thon 22, Hercules Virtual Marathon, Scuba Diving, and 200 Hour Yoga Teacher Training.
About: Goa presents residents with a simple life, one which offers up immaculate beaches and places of worship. In the capital, Goa is a thriving tourist destination that provides casinos, restaurants, nightclubs, and galleries. Panaji is a beautiful yet bustling metropolis that oozes Portuguese architecture and is full of colour. Every corner turned in Goa offers up something wholesome and new to the experience of the place.
Dublin, Ireland
Location: Dublin is the capital to the Republic of Ireland, which is located on the eastern side next to the River Liffey.
Destinations: St. Stephen's Green, Phoenix Park, and Dublin Zoo.
Hotels: The Maker Hotel, Woodward Square, Sweet Inn, and The Maldron Hotel
Events: Pride, Dublin Book Festival, Forbidden Fruit, St. Patrick's Festival, Bloomsday, Dublin Fringe Festival, and Longitude.
About: Dublin is a highly popular destination for travellers from all four corners of the world. Dublin is packed with history, folklore, and stunning landscapes. While the weather may be testing for most parts of the year, as a cultural experience it is definitely the best going. Dubliners are just as famous as their hometown; you'd be hard-pressed to meet any other human that is as funny and generous as the Irish.
New Zealand
Location: Southeast of Australia is where New Zealand floats in the Pacific Ocean. It is comprised of two landmasses, the south, and the north. New Zealand is the 6th largest island country in the world.
Destinations: Auckland, Queenstown, Christchurch, Rotorua, and Wellington.
Hotels: Sky City Hotel, Hotel Give, Fable Christchurch, James Cook Hotel Grand Chancellor, Scrubby Bay Villa.
Events: Wellington Pasifika Festival, Te Pātaka o Wairau Māori Night Market, Pasifika Festival, Sounsplash, Splore, and WOMAD.
About: One of the most picturesque countries in the world, New Zealand is stunning with lush landscapes, waterfalls, lakes, and mountains. It was the backdrop for the Hollywood movie Lord of the Rings and is popular for its sheeping industry (more sheep than people), fruit, the kiwi bird, and hosting the town with the longest name in the world, which we are not even going to attempt to type in as it would take up more space than this review.
Mumbai, India
Location: Formally known as the city of Bombay, Mumbai is another city on the west coast that is also India's largest city.
Destinations: Red Carpet Wax Museum, Sanjay Gandhi National Park, Haji Ali Dargah, Siddhivinayak Temple, Elephanta Caves, Chhatrapati Shivaji Terminus, and the Shri Mahalakshmi Temple
Hotels: Trident Bandra Kurla, The Oberoi Mumbai, The Taj Mahal Palace, The Taj Mahal Tower, Trident Nariman Point, and JW Marriott Mumbai.
Events: Indian Arts Festival, India International Beauty Fair, International Film Festival, Elephanta Festival, Kala Ghoda Festival, Diwali: Festival of Lights, and many more.
About: Mumbai is a very metropolitan area with the highest number of billionaires and millionaires of all India's cities. The capital is home to three heritage sites which are the Elephanta Caves, the Chhatrapati Shivaji Terminus, and the Maharaj Terminus. The architecture of the city is an array of Art Deco and Victorian that was inherited during the 19th and 20th centuries mainly due to the British Commonwealth rule that Indian went through before their independence in 1947.
Toronto Capital, Ontario, Canada
Location: This is the capital of the province of Ontario, which is a major Canadian city that borders with U.S states New York and Michigan.
Destinations: Ottawa, Niagara Falls, and Lake Ontario.
Hotels: The Ritz Carlton, Shangri-La Toronto, Four Seasons, St. Regis, 1 Hotel Toronto, and Fairmont Royal York.
Events: The Toronto Caribbean Carnival, Nuit Blanche, Toronto Jazz Festival, Pride, and the Honda Indy.
About: Being the largest city in Canada, Toronto is a business and finance hub, leading the world in technology, entertainment, and culture. The city is home to a mass multicultural environment, which is joined by the many incredible trees that still remain despite the development. There are 7 sports teams inside the capital that include the Raptors, Maple Leafs, Blue Jays, Toronto FC, and York United FC, to name a few.
Malta
Location: The Island of Malta is an archipelago located in the Mediterranean just south of Sicily and north of the African Cost near Tunisia.
Destinations: Valetta, Comino, Gozo, Popeye Village, and Sicily
Hotels: Corinthia Palace, The Xara Palace Relais & Chateaux, Hyatt Regency Malta, Cugo Gran Macina Grand Harbour.
Events: Valletta Baroque Festival, Strawberry Festival, International Fireworks Festival, Mercedes-Benz Fashion Week Malta, Lost & Found Festival.
About: Malta is a casino mecca and home to Europe's largest licencing body. It's the Med's own Monti Carlo, and if you find yourself not gambling inside one of their luxurious casinos, you will be at the beach, enjoying local Mediterranean cuisine, or enjoying the sights and sounds of Malta's nightclub scene that is prominently based in the town of Paceville. Malta is a filming location magnet and has played home to many Hollywood movies that include Game of Thrones, World War Z, Gladiator, Jurassic World: Dominion, and Troy.
Wembley, United Kingdom
Location: Wembley is a northern suburb of west London. It is home to the famous sporting and events stadium and can be accessed via the Charing Cross rail line.
Destinations: Wembley Park, Highgate, and Central London.
Hotels: St. George's Hotel, Novotel, Hilton, Hotel 55, The Hide London, and Hotel Xanadu.
Events: The Emirates FA Cup Final, Sky Bet Championship Play-Off Final, Harry Styles: Love on Tour, Ed Sheeran, Westlife, Coldplay: Music of the Spheres World Tour
About: The pinnacle of sports in held here inside the newly refurbished stadium. Wembley as witnessed landmark moments in sport, especially none more so than when England won the 1966 World Cup. Wembley as an area also boast pleasant surroundings with Wembley Park in the area. Access to the area can be made by train, underground, bus and is linked to major motorways.
Cape Town, South Africa
Location: Located in the southwest region of South Africa, this port city is home to the Table Mountain and not too far from Robben Island
Destinations: Maclear's Beacon, Kirstenbosch National Botanical Garden, Robben Island, Boulders Beach, Cape Point, Chapman's Peak, and Camps Bay Beach.
Hotels: Captial 15 Orange Hotel, 91 Loop Boutique Hostel, One & Only Cape Town, Cape Town Marriott Hotel, and the Atlantic View Cape Town Boutique Hotel.
Events: Tasché Die Boer, Jive Cape Town Funny Festival, Steenberg Trial Run, Cape Town Carnival, Arts Festival, Cycle Tour, and Sizzled Summer Music Festival.
About: Whether you want to breathe in the mountain air at insane altitudes or risk life and limb with shark cage diving, there is a lot to be had between both ends of the spectrum in Cape Town. As a tourist destination, it is one of the safest locations in South Africa. It oozes natural settings and is classed as the Beta World City. A marvellous experience that very few places in the world can match.
Berlin, Germany
Location: The capital of Germany is rich in history and is one of the EU's most popular destinations.
Destinations: The Reichstag, Berlin Wall Memorial, The Brandenburg Gate, Museum Island, Checkpoint Charlie Museum, and Charlottenburg Palace and Park
Hotels: Hotel Adlon Kempinski Berlin, The Ritz Carlton Berlin, Grand Hyatt, Radisson Collection Hotel, Regent Berlin, and SO/Berlin Das Stue.
Events: Berlin International Film Festival, The Long Night of Museums, Tanz im August: Dance Festival, and the International Beer Festival
About: Berlin is culture, art, and drinking, all in massive quantities. It's become somewhat of a hip and trendy capital that has sprung out of a new-wave art scene. It is packed with museums and galleries, plus travel can be enjoyed through its many canals. There are many historical landmarks here that provide a unique contrast to the incredible nightlife that can happen here.
Paris, France
Location: The capital of France where you can locate the Eiffel Tower.
Destinations: Louvre Museum, Notre Dame Cathedral, Musee d'Orsay, Sacre-Coeur, Champs Elysees, Luxembourg Gardens, Catacombs of Paris, Moulin Rouge.
Hotels: Castille Paris, Maison Albar Hotel, Relais Christine, Prince de Galles, Tim Hotel Montemartre, Hotel d'Aubusson.
Events: The Arc de Triomphe, Maison and Objet, Paris Fashion Week, Retromobile Vintage Car Show, Six Nations Rugby, Cinema Du Reel Film Festival, Livre Paris, WW2 Victory Day Ceremony, and Jazz Festival.
About: Known as the most romantic city on earth and with good reason. Paris is a splendour awash with stunning architecture, lovely housing, and backstreets. Paris is a maze of culture, with much art and musical influence. You, of course, have the food and the fashion of France, in general, that is ideal for any holiday and shopping spree.